God's No# 2 Plan - The whole gospel to the whole world
"... And this gospel of the Kingdom shall be preached in all the world for a witness unto all nations; and then shall the end come." Matthew 24:14


You will probably ask - Why God's No# 2 plan, what was God's No# 1 plan? His first plan which was already fulfilled and announced in the Old Testament was his first coming; God revealed in the flesh (Emmanuel = God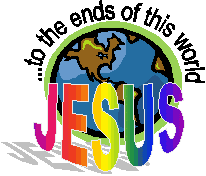 with us) came to destroy the works of the devil on the cross at Calvary. For this reason the man Jesus had to make it all the way through until the crucifixion. He never lost sight of his goal. THE RIGHTEOUS ONE, beaten and despised, dies pierced through with nails upon the cross for a message which the entire world must hear.

But the story is not yet finished. Just like he had predicted, He would rise again on the third day, and that is exactly what happened. His triumphant cry on the cross. "It is finished" meant that he had made it. Adam's handing over his authority over the earth and what was upon it to Satan when he did what the devil told him to do was cancelled on the cross at Calvary. Only Jesus could say: All power is given unto me in heaven and in earth. Matthew 28:18 He now possesses the power to set every person, who is imprisoned and comes to him, free from the devil and to break the chains of sin.

God's No# 2 plan which is the time of grace is now. Jesus Christ handed over his plan of salvation to his disciples before his ascension to heaven. The person who hears the preaching of the whole gospel and obeys it will be saved.

Nowadays many claim to be "the church of Jesus Christ." But if you follow their message from one of them in particular you will find a trail of blood from millions of murdered people who were unable to believe their message because it is not from God. Others, on the other hand, only stick to 50% of the gospel, but do not go further, what is their problem? Is it fear of the whole truth? Is it that they do not want to lose the other 50% of the world and their proud life style and want to hold onto their life?

Only the truth the word from Jesus Christ gives life and is able to deliver, but it can only be completely believed when it is preached and proclaimed by those who Jesus himself calls to the harvest, and not by those who call themselves to this ministry. It is not an occupation, here you are responsible to Jesus. The core of the full gospel is Acts 2, verse 38 Repent, that means turning around and confession of all your sins to Jesus Christ alone. Being baptized in water the way God requires it, solely in the name of Jesus Christ. It serves to wash away the sins and is a part of the rebirth out of water. Following that you are promised the gift of the baptism of the Holy Ghost. You can receive the Holy Spirit just like the believers in the book of Acts (you can read about it yourself).


Seek a church which preaches the whole gospel and continue to follow Jesus Christ. Only then will you be saved. God is now looking for a people for his name out of all the nations (Acts 15:14); and when he returns he will take them out of the world before the end! See Hebrews 9:28. Will you also be going with? rw
Home Page