Message from the Monthly Flyer from April 2007
| | |
| --- | --- |
| The Word of God | |
John 11:39 Jesus said, Take ye away the stone. Martha, the sister of him that was dead, saith unto him, Lord, by this time he stinketh: for he hath been dead four days.
John 11:40 Jesus saith unto her, Said I not unto thee, that, if thou wouldest believe, thou shouldest see the glory of God?
John 11:41 Then they took away the stone...
John 11:43 And when he thus had spoken, he cried with a loud voice, Lazarus, come forth.
John 11:44 And he that was dead came forth, bound hand and foot with graveclothes: and his face was bound about with a napkin. Jesus saith unto them, Loose him, and let him go.

There is nothing that can be compared with the WORD of God! HE says something, and that is exactly the way it turns out be. Nobody can do anything about it to change it in any way whatsoever; HE does what HE wants and as according to the way which HE chooses! Speaking through Isaiah, JESUS says: "So shall my word be that goeth forth out my mouth: it shall not return unto me void, but it shall accomplish that which I please, and it shall prosper in the thing whereto I sent it." Isaiah 55:11

When you realise that when His Word, which has been spoken, does not come back without having any results, and accomplishes exactly that purpose for which HE sent it, it just causes you to be amazed about the wonderful power of God. However, what does it mean when HE says, "My word shall not return unto me void?" We want to take a closer look at this.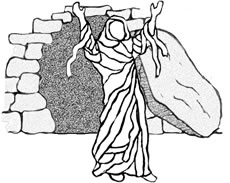 Lazarus had already been dead for four days and was lying in his tomb made of stone. Martha, the sister of Lazarus, was arguing with Jesus about the resurrection. Jesus made it clear to her that HE is the resurrection. Wherever HE is, HE is LORD! Everyone was standing there - the disciples of Jesus, the neighbours, the friends of the deceased Lazarus, and others who were followers of Jesus. Jesus spoke and said to them, that they should roll the stone away from the grave. Martha protested. He has already been dead for four days. There is nothing more that can be done. It is too late. These were her thoughts. She was wrong, for it is never too late when Jesus steps onto the scene.

What takes place at the resurrection of the dead? Is not the case that there will be less left over from those who are dead, compared to that which is now left over from Lazarus? HE created mankind out of the earth; and as a result of the punishment for sin, mankind has to become earth again. His WORD does not come back without any results.

When they had taken the stone away, and they had to do that for His Word commanded it, HE cries out 3 simple words, "Lazarus, come forth." And in that very same moment, Lazarus comes out! Death, the decomposition of the body, whatever it was, had to yield and be obedient to the WORD of God. Jesus spoke, gave his Word and it did not come back void.

Whatever Jesus says will be fulfilled; and it will not be any different from that, other than His Word accomplishing exactly that purpose for which HE sent it.

Many realized it during that time, also the blind man who heard that Jesus was coming to Jericho. He calls out to Jesus, confesses his faith, and Jesus says, "Receive your sight." And in the very same moment, the blind man was able to see! What the world in its wisdom is unable to do, and also does not want to acknowledge, is that the WORD of God never comes back without having any results. However, they will find out about it and will also experience it for themselves. Then after all, His Word has already come forth, it has been spoken, it has been sent, declaring that every knee shall bow and every tongue confess that HE is the LORD and no-one else besides HIM!!! rw