Comforted at the mountain of God
1 King 19:6-8 Then he looked, and there by his head was a cake baked on coals, and a jar of water. So he ate and drank, and lay down again. And the angel of the LORD came back the second time, and touched him, and said, "Arise and eat, because the journey is too great for you." So he arose, and ate and drank; and he went in the strength of that food forty days and forty nights as far as Horeb, the mountain of God.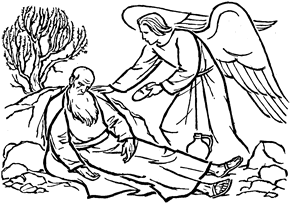 Here is Elijah, wanting to die, wanting it so that the battle would be over. His life up until now had always been a battle. A battle against the evil in Israel, a battle against the idols in the land of promise which God had once cleansed. It was a battle for the faith, for the law. It was a battle against the sins of the heathen. Holy was their God who they had forsaken. It is no wonder that there was no blessings from God. Is it not the same way in our land?
King Ahab had fallen under the spell of Jezebel, his heathen, ungodly wife, who had brought her idols with her into his life and to Israel. She ruled; Ahab was just her puppet on a string. She was the one who gave the orders to her husband to kill the prophets of God and wanted to mislead the people of Israel with her heathen gods. Whosoever did not obey her would be killed.

Elijah went on his way, the words of the angel motivated him to go there. He needed a place now where he would feel the closest to God. Where is the place where you feel the closest to God? During this long journey he was thinking about what he had accomplished. It seemed that everything had been for nothing. Oh, if only the earth would open up or fire would fall from heaven and consume the evil. He feared for his life like someone who had done something wrong. Nevertheless, he remained faithful to God.
How often is a righteous person persecuted, mocked, hated and pursued? Evil will not rest until righteousness has disappeared out of the land.
There on the mountain of God, Elijah finds his rest – rest from the persecutors.
Here in the cave, far away from all the problems, which were not really his problems. Here in the stillness, God speaks to him. He comforts and encourages him. He shows him the end of the evil. He shows him that He has kept a small number of people. Here is the place where one heart speaks to the other; one friend to another.
Where is your place? Elijah lays his worries down before Jesus and God helps him. rw