"Then Peter said, Silver and gold have I none; but such as I have give I thee. In the name of Jesus Christ of Nazareth rise up and walk. And he took him by the right hand, and lifted him up; and immediately his feet and ankle bones received strength. And he leaping up stood, and walked, and entered with them into the temple, walking, and leaping and praising God." Acts 3:6-8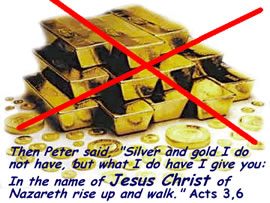 Here we catch a glimpse of the working of the Holy Ghost in the church of the living God. Already his confession, "silver and gold have I none", indicates that they had not grown rich in worldly possessions. Jesus was, after all, their example. Their aim was to live God´s word to the fullest extent; to proclaim it and that free of charge for both sides!
They relied upon God and not upon people. You cannot have both! How did they ever manage to do that? It is quite easy when someone has done God´s will, then God will also take care of that individual. Peter did not return home to his fishing boat for Jesus called him. Now he trusted his Lord and God! The lame man who was healed believed in the name a Jesus Christ and came into contact with people who had the Holy Ghost and were baptized in Jesus name!
The traditional churches in our country have their gold and their silver, the riches of this world, but have not received life from God. They are like the crippled, paralyzed and sitting there, waiting for a donation. Look on us, said Peter to the lame. The traditional church has gold and silver and even a name, but that is about all. We cling tightly to the old gospel. Look on us, now is the time that we shout about the apostolic message to you.

"Then Peter said unto them, Repent, and be baptized every one of you in the name of Jesus Christ for the remission of sins, and ye shall receive the gift of the Holy Ghost." Acts 2:38
Only this message can bring to life that which is lame!!!
rw